Recordings
Cindy has produced four recordings available to the Congregationís membership at no charge.
Pick up your copy in the Etz Chaim lobby.
Distribution made possible by the Congregation Etz Chaim Ritual and Religious Committee and your kind donations to the Ritual and Religious Music CD Fund.
Now Available!
<![if !vml]>
<![endif]>MORE Music of Shabbat
All new music for Shabbat Services, Songs and Chants for Friday night and Shabbat morning
<![if !vml]>
<![endif]>The Music of Shabbat
A collection of the melodies used for Shabbat worship services at Etz Chaim.
Around the Year
Holiday music for the Jewish calendar year; Rosh Hashanah, Yom Kippur, Simchat Torah, Chanukah, Purim, Passover and Yom Hashoah.
<![if !vml]>
<![endif]>The Sound of Freedom
Passover music for use at your Seder or to simply enjoy the music of our Festival of Freedom.
<![if !vml]>
<![endif]><![if !vml]>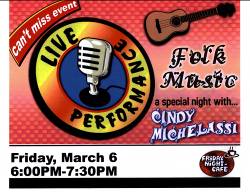 <![endif]>Cindy Live at the Association
A collection of Cindyís favorite folk songs recorded during a live concert.
Get your copy now!
To order contact Cindy via email at Cindym@xnet.com