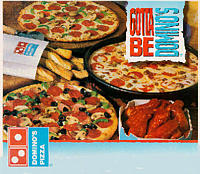 That Delivery Boy May Be a Spy
Consider the following entry from the AFU FAQ:
F. You can tell if a big op. is happening at US gov't by level of pizza orders.
First, this is a specific incarnation of the common "locals know about secret military operations" wartime rumor/urban factoid. There are plenty of instances local to any war and place.
This one made the rounds in 1990 - 1991 and has continued to pop up sporadically since. Where has it been reported?
The most recent appearance that I could find was December 28, 1995. I was not able to find a cite before 1990 (more on this later).
The Search for the OPSEC Indicator
In one of its tours of duty in rec.humor, this legend contained an interesting reference to something called the OPSEC Indicator. I looked high and low for this journal but I was not able to find it. It may be a corruption of the "OPS Journal", the newsletter of the Operations Security Professionals Society. Or it may be a simple piece of embellishment like the "Darwin Awards" of the JATO car fame.
Voracity
How voracious is all of this? Let's look at some of the claims from Frank Meeks of pizza deliveries:
"Between 10 p.m. and 2 a.m. on the eve of the conflict, 55 pizzas went to the White House, breaking all records.", 8/30/91
"At the White House, we used to deliver 50 a day. Now it's 125. The big increase is late at night.", 2/17/91
"...The Pentagon's has "dramatically increased. Normally it's about 50 a day, and now it's about 300, with much of the increase late at night.", 2/17/91
It is difficult to compare these numbers since they cover different periods of time. It is interesting to compare them against some facts I found about Pentagon dining:
The Pentagon has two cafeterias and five smaller 24-hour snack bars.
18,000 - 19,000 of about 21,000 Pentagon employees eat at the cafeterias.
See "GOVERNMENT WORKERS RESORT TO CAFETERIA DINING".) So the normal level of 50 pizzas a day to the Pentagon is tiny when compared to the 2,000 - 3,000 Pentagon employees that don't patronize DoD cafeterias. I assume that the cafeterias are not open round the clock as the snack bars are. I won't speculate how many people are on hand in the Pentagon overnight or during a crisis. So I'll lay out data and indicate its effect on voracity. "+" means tending to increase voracity, "-" means tending to decrease voracity:
+ There are few options for late-night food delivery in the area of D.C. where the federal buildings are located.
+ The Pentagon has only snack bars (vending machines?) that are open late at night.
+ The increases in Pentagon pizza deliveries in crises come late at night.
+ Frank Meeks probably sees a significant percentage of the late-night food delivery business in D.C.
- All the international crises that Meeks cites were covered in the media before they became acute.
- The numbers of Domino's pizzas he claims were delivered to the Pentagon is very small when compared to the total population of the Pentagon.
- Frank Meeks is obviously after some free publicity.
Unfortunately, we just don't have the evidence in hand to judge Mr. Meeks' claims.
Cites
---

[The Rooster Booster! ]
[The Sphinx's Nose!]
[Tapping the Admiral!]
[No Surrender!]
[Weird Science!]
[Back to AW's Home Page!]