From the alt.folklore.urban FAQ:
T. There were (are?) Japanese soldiers hiding out on isles in Pacific who believed WWII was still on.
In the interest of helping out Emily Kelly, I dug up some references for the above:
Onoda, Hiroo. No Surrender: My Thirty-Year War. Tokyo: Kodansha, 1974
Masashi, Ito. The Emperor's Last Soldiers. New York: Coward, 1967
Hiroo Onoda holds the honor of the last Japanese soldier to surrender, finally packing it in in 1974. Attempts were made to persuade Hiroo to surrender, including appeals from relatives. It took his former commanding officer to convince Hiroo the war was over. He had been holding out Lubang Island in the Phillipines. After spending some time in Japan, he retired to a ranch in Brazil.
Onoda recently resurfaced in May 1996, returning to the Phillipines for a visit:


TOKYO (Kyodo) -- Hiroo Onoda, 74, a former Japanese Imperial Army officer, leaves Narita airport near Tokyo for his first trip to the Philippines in 22 years to visit his former island hideout in the western Philippines. Onoda hid in the jungles of Lubang Island for about 30 years after the end of World War II.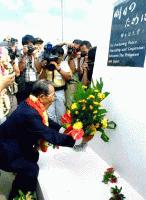 Lubang Island (Kyodo) -- Former Imperial Japanese Army officer Hiroo Onoda, who held out in the Philippine jungles for almost three decades after the end of World War II, lays flowers at a monument on Lubang Island in the Philippines on May 21 during his first visit in 22 years.


---

[The Rooster Booster! ]
[The Sphinx's Nose!]
[Tapping the Admiral!]
[Weird Science!]
[The Pizza Meter!]
[Back to AW's Home Page!]